The Rev. Aimee Eyer-Delevett Named as All Saints' Next Rector; Her First Sunday is Dec. 7!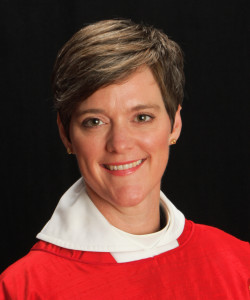 All are welcome to a special day in the life of our parish: Dec. 7 is the Rev. Aimee Eyer-Delevett's first Sunday as Rector of All Saints-by-the-Sea! "This is an exciting new chapter in the life of our wonderful parish," commented Senior Warden Chip Nichols.  The All Saints Vestry announced the call of Rev. Aimee following an 18-month profile and discernment process.  More details about this process can be read by clicking here.
The Rev. Aimee comes to All Saints from the Church of the Holy Nativity in Clarendon Hills, IL, where she served as Rector for the past eight years.  Aimee notes she is passionate about creating vibrant communities of welcome, relevance and nurture for all people.  Her priesthood is marked by leading congregations and individuals to discover how God is calling them to use their lives and gifts for ministry.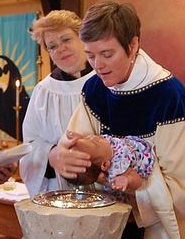 "My journey to your spiritual home to discern with your Vestry confirmed that I believed God was calling me to be your rector," said the Rev. Aimee in a letter to the parish. "I am eager to discern the path God lays before us, for our sake and for the sake of the world we serve in Christ's name," she added.
Aimee and Alyson, her partner of 17 years, and their four-year-old daughter, Willa,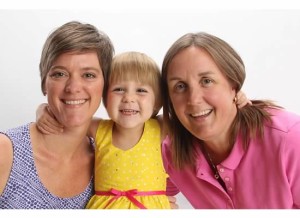 will arrive at All Saints in late November. In the meantime she will be saying goodbye to her own parish and beginning the process of moving into the All Saints Rectory.  "We are so blessed to have Aimee and her family join us," Chip concluded.
Comments from the All Saints Vestry:
"Her energy is infectious, and I believe her enthusiasm and engaging style are precisely what we need in this next stage of All Saints' growth." ~Bill Mcfadyen
——————————
"Reverend Aimee is a rector who I believe can walk with us, providing love and inspiration, as we serve this generation and prepare to serve the next." ~Nathan Sigler
——————————
"Aimee embodies all the qualities presented in the All Saints Profile for what we as a congregation wish for in our new Rector." ~Bitsy Bacon
——————————
"I thought we were asking too much with our ideal candidate characteristics in the Profile…turns out we were asking for Aimee." ~David Telleen-Lawton
——————————
"There has been a demand for better in-reach to our church family and Aimee will bring the strong pastoral skills that our congregation needs. She truly believes in the power of relationships and I anticipate that she will build close ties with each member of our community." ~Alex Williams
——————————
"We have been blessed with the acceptance of our new rector whose qualities and qualifications are truly unsurpassed. I am beyond excited about the future, wellbeing, and growth of ASBTS. I honestly believe Rev. Aimee has been Heaven sent." ~Doug Davidson
——————————
"Aimee is going to lead ASBTS into the future with grace and dignity." ~Sally Green
——————————
"Rev. Aimee has a special presence. She makes folks see what she sees and want to go where she leads." ~Chip Nichols, Senior Warden
More Information About the Announcement of All Saints' New Rector:
The letter of announcement from the Vestry to the parish can be found by clicking here.
The Rt. Rev. J. Jon Bruno, the Bishop of the Diocese of Los Angeles, wrote a warm and loving letter to All Saints; you can read it by clicking here.
The Rev. Aimee has written a letter to the parish; it can be found by clicking here.
Senior Warden Chip Nichols' announcement during both Sunday services can be read here.
Read comments from Discernment Committee members Tom Mack and Marni McGee about Aimee by clicking here.
A special edition of our weekly print newsletter, "Read All About It" can be found by clicking here.
If you'd like to re-read the wonderful All Saints Profile, just click here.