Thanksgiving at All Saints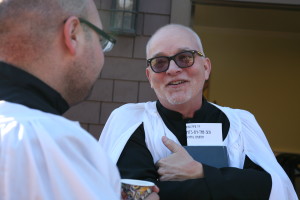 By Steve O'Connor, Director of Music Ministries
As I approach Thanksgiving, I'm reminded of I Corinthians 10:16 and the Apostle Paul's reference to the "Cup of Thanksgiving."  Here Paul is referring to the ancient Jewish practice of concluding a meal with a prayer of thanksgiving over a cup of wine, known as a "cup of blessing."  This ritual act acknowledges God as the giver of all good gifts and consecrates the meal.
Borrowing this expression from ancient Judaism, Paul applied it to the Lord's Supper, the Holy Eucharist, the Thanksgiving Meal in which we re-enact the saving acts of Jesus.
This year, once again All Saints will gather on two occasions to celebrate our gratefulness to God, for the bounty that we enjoy in our lives.  November 19th at 7:00 p.m. we'll join the churches of the M-4 (4 churches in Montecito) in an ecumenical service of Thanksgiving at Montecito Covenant Church.  On Thanksgiving Day, November 27 at 11:00 a.m., we'll gather in our own church to celebrate Holy Eucharist – the Thanksgiving Meal of salvation.
Join us, won't you, for these two very important worship services. 
God's deepest peace, as you enter this special season of Thanksgiving.