Overview
Worship lies at the center of who we are at All Saints-by-the-Sea.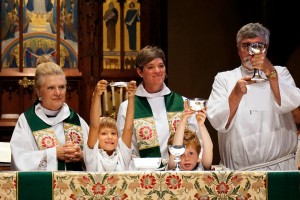 Every Sunday, we gather as a community to glorify God and to take our place within a community of lasting friends, committed to one another. We encourage each another to be shaped by the loving language of God as we experience that language in the stories from the Bible and in the Eucharist. Sharing in the bread and wine, we experience the common meal that does far more than nourish the body: it nourishes the heart and soul for each of us and all of us at once. Finally, we are sent out to serve the world in Christ's name.
We believe our common worship offers us consolation and reconciliation in challenging times and above all else, friendship at all times with God and with God's people. Ultimately worship shapes us into the Body of Christ, gathered, blessed and sent to serve the world in Christ's name.