Focus Project
A major goal of Outreach at All Saints is to transform the hearts and lives of our parishioners, not just by saying we support those in need, but by offering hands-on opportunities to show Christ's love to them.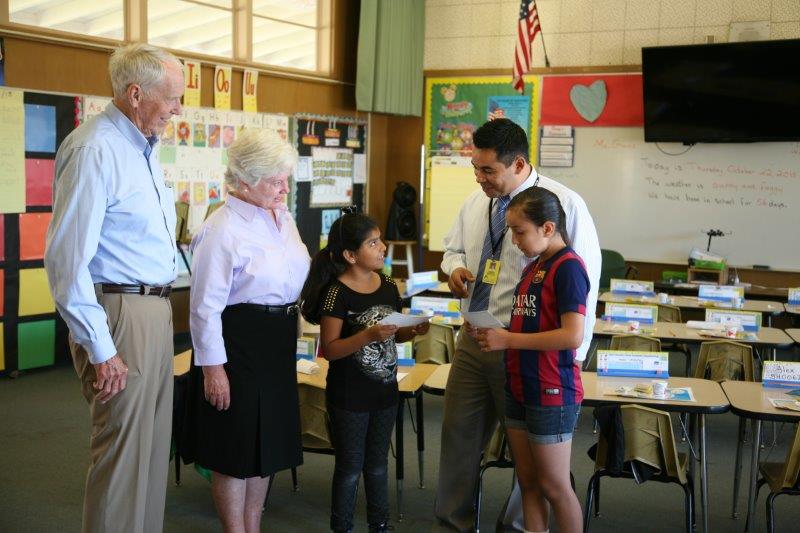 Our Parish Focus Project is a multi-year project that enables the parish to choose where it can make a deep and lasting difference and which provides many opportunities for parishioner involvement, either by donating time or contributing financially.
 Lisa Chiles Cleveland Elementary School Focus Project
Hands On Help at the Cleveland School Fall Fundraiser
The Outreach Committee decided in early 2014 to also launch a Local Focus Project with the same goal as the international effort: to change lives through the hands-on ministry of our parishioners, as well as their donation parish and individual funds.  Cleveland Elementary School in Santa Barbara was named the inaugural 2014-16 Local Focus Project.  Click here to see photos of the Outreach Committee's Spring 2014 retreat that laid the groundwork for this meaningful work.
The latest Focus Project of All Saints is Cleveland Elementary School, located on Alameda Padre Serra above the roundabout.  While it is a mere two miles from All Saints, the children and families are in great need of financial support as well as a hands-on relationship with its neighbors.
In 2013 All Saints joined with the other M-4 churches (All Saints, El Montecito Presbyterian, Mt. Carmel Catholic Church and Montecito Covenant) for an outdoor clean-up day at Cleveland School.   After that day our Outreach Committee became interested in doing more.
There are numerous opportunities available for parishioners to become involved with Cleveland, from gardening to tutoring to merely eating lunch with the students and making conversation for just half an hour.
Lisa Chiles Cleveland Elementary School Focus Project
This Focus Project is being named the "Lisa Chiles Cleveland Elementary School Focus Project" in honor of Lisa, who was an All Saints parishioner and Outreach Committee member who was dedicated to our efforts to help the children of our community.  She passed away in the Spring of 2014 after fighting Lou Gehrig's disease.  We hope to honor Lisa's dedicated life of public service through this gesture to name our effort in her honor.
Why Cleveland Elementary School?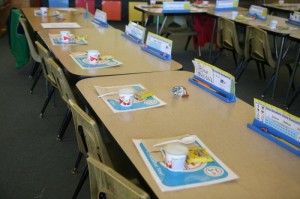 We've chosen Cleveland for a variety of reasons:
The 2015 Program
The $32,000 devoted in 2015 will go to the following efforts. Click on this link to see photos of the visit to Cleveland by members of the Committee, who presented the Outreach check, visited with Principal Gabriel Sandoval and checked otu the current PE facilities:
1. Helping Cleveland teachers learn how to assist students with English comprehension. Called an "embedded English development program," this will assist in situations like a first grade class where 18 of 22 students did not have English as their primary language.
2. Physical Education equipment/programming. All Saints is assisting Cleveland to begin a new PE program – the school has not had a PE instruction or equipment until now! Funds will go toward soccer balls, pumps, and an array of other necessary equipment and programs.
In addition, the Outreach Committee voted to continue a program initiated last year where $1,500 was devoted to provide each 6th grader a small duffel bag for use in their annual camp trip and for their own use. Before All Saints' support, Cleveland children used trash bags to carry their camping gear.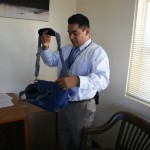 Our 2014 Efforts
1. Middlebury Interactive Languages – $9,000. One year computerized language program (Spanish, Chinese, German or French – each student selects language he/she would like to study) for all students at Cleveland
2. Middlebury Interactive Languages – $500.  Teacher Training for all teachers at Cleveland
3.  Writing Road Map – $2,500.  Computerized writing program.
4. Visual Thinking Strategies – $3,000. Teacher Training for art program (language skills for writing, talking, thinking about art objects and paintings)
5. Visual Thinking Strategies – $500. Site license access to the images
Total program monies requested for 2014:  $15,550.   The Outreach Committee voted to support this request at its June 2014 meeting.
Other Areas Where All Saints Helps:
1. Advocacy for the neighborhood and specially the "Salinas Corridor."  Letters, speakers, PowerPoint presentations, monitoring City Council.  We need people with skills to work with City Council and local government.  There is no neighborhood organization.  Cleveland exists in an area where decay and gentrification are side by side.
Vehicular/pedestrian safety in the area is an issue – drivers on Salinas street go too fast.
Sidewalks need repair and installation.
No one is advocating for this neighborhood!
2. Tutor Coordination.  Teachers need help in the classrooms.  There will be an opportunity for All Saints to develop a tutoring program in accordance with teachers' needs and then administer it for the school.
(Note that tutors will be required to be fingerprinted and tested for TB.)
Tutoring opportunities exist in after-school programs where oversight is done by non-Cleveland personnel.
Tutors are needed throughout the school
PTA meets once per month at 8:45 a.m. on Tuesdays.  They would welcome volunteers to meet with them.  (Currently on vacation – starts up again by July 21.)
3. Administration could use general assistance.
4. The library could use volunteers.
5. Come and eat lunch with the children.
Please be in touch with the Church Office for more information or email the Outreach Committee!
Past Projects
All Saints has just wrapped up its first International Focus Project: the construction of a new 10-room school – St. Cyprien – in Labiche, Haiti, which continues to feel the devastating effects of the 2010 earthquake.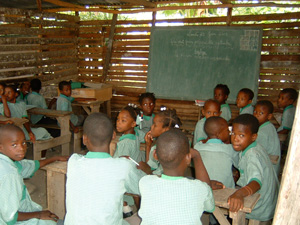 All Saints parishioners traveled to Haiti in 2013 to meet, worship together and extend a personal relationship with the community we are helping. Click these links for more information about our work in Haiti:
Haiti trip parish emails, messages: