Baptisms, Weddings, Funerals and Memorials
Baptisms
I bless your eyes, that you may see God's image in everything.
I bless your ears, that you may hear the cries of the poor.
I bless your lips, that you may speak nothing but the gospel of Jesus.
I bless your hands, that everything you give and everything you receive may be a sacrament.
I bless your feet, that you may run to those who need you.
Baptism is the rite of Christian initiation by which we welcome people into the household of God in the name of the Father, and of the Son and of the Holy Spirit.
Baptisms are always a joyous occasion at All Saints. Baptism is celebrated on the feasts of All Saints (November), Baptism of our Lord (January), the Great Vigil of Easter (March-April), and the Day of Pentecost (May-June). Baptism is offered for infants, children and adults.
2015 opportunities for Baptism:
Easter Morning at the 8:00 a.m worship service. (Preparation for baptism will take place on Saturday, April 4 from 10am-Noon)
Pentecost Sunday, May 24th at the 10:00 a.m. worship service.
All Saints Sunday, November 1st at the 10:00 a.m. worship service.
Please contact the Church Office at (805) 969-4771 if you are interested in baptism at All Saints.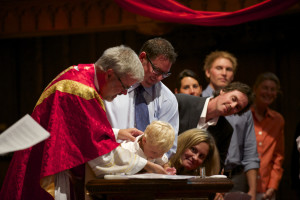 Weddings
All Saints is a beautiful Church and a popular place for weddings. A wedding application and statement of our policy can be obtained through the Church Office, (805) 969-4771.
Premarital counseling is required for all couples wishing to be married in the Episcopal Church.
Funerals/Memorials
Losing a loved one is difficult, no matter what stage of life they leave us. Planning a memorial service that both honors their memory and celebrates new life in Christ can be a powerful healing experience.
To make arrangements for a memorial service at All Saints-by-the-Sea, or if you would like the ministry of a priest, please contact the Church Office at (805) 969-4771.
In the event of an emergency, please call the office at any time of day or night. One of our clergy is always on call.