Welcome Committee and Greeters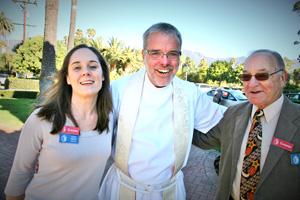 These are currently two separate groups with similar goals: to make the visitors feel welcome and to answer questions they may have. Greeters are at the main entrances of the Sanctuary and say hello to everyone upon entering and exiting the Church.
A member of the Welcome Committee makes a specific invitation to the congregation at announcements during the service to come to a pink-covered table on the patio to learn more about All Saints. The Welcome Committee also plans other activities from time to time for newcomers and others to learn more about life at All Saints.