Special Projects
All Saints parishioners have a decades-long legacy of founding and supporting projects that help those in needs. With Isaiah (1:17) in mind, "Learn to do good, seek justice, correct oppression; defend the fatherless, plead for the widow," we work to help those who cannot help themselves. The following are ongoing efforts or special projects of our parish.
Habitat for Humanity
All Saints volunteers made a complex of affordable homes closer to completion at the Habitat for Humanity housing project in downtown Santa Barbara during work days in 2013 and 2014.  Future homeowners worked alongside parishioners at the Cannon Perdido Street site as they put "sweat equity" into their future homes.
Holiday Giving Tree/Christmas
The Giving Tree at Christmas allows parishioners to make donations to help meet the specific needs from the less fortunate. A Christmas tree with cards bearing requests is placed on the Church patio on the first Sunday of December. Parishioners pick the request they want to fulfill and return it with the donation to the Church Office. The Giving Tree started several years ago when we borrowed some Christmas wishes from Mt. Carmel Catholic Church. It has grown into a well-loved project that brings Christmas joy to children and some adults who might otherwise be overlooked.
Hurricane Sandy Response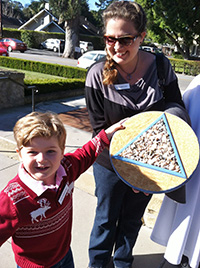 Hurricane Sandy battered the East Coast of the United States in late 2012. While help came from across the country in the immediate aftermath, months after the storm cleared, many remain homeless or without heat or electricity in the New England winter.
The All Saints Outreach Committee voted to send $10,000 for food, blankets and other essentials for parishioners of Holy Trinity Church in Ocean City, New Jersey, who are among those badly affected by the hurricane. Then, over the Christmas season, All Saints parishioners raised another $8,500, which was matched by the Outreach Committee. Three members of the All Saints Outreach Committee visited Holy Trinity in early 2013 to personally deliver this money, which totaled more than $17,000, and convey the parish's warm greetings and best wishes for recovery.
The trip and All Saints' relationship with Holy Trinity Parish was the subject of a recent article in Noozhawk.