History of All Saints' Offertory Baskets Revealed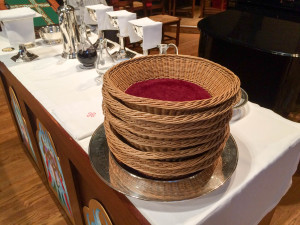 Over the past week a bit of All Saints mystery was revealed: from where did our current offertory baskets come?  In mid-August (2015) a note was left in one of the baskets which are passed through the pews during Sunday services to collect monetary gifts of those in attendance for the support of the church.  The note read:
"The baskets used for the offertory were donated by Jane Lewis McMenamin (her father and brother owned Lewis' Gift and Antiques in the Orena Adobe on de la Guerra and Anacapa streets for over 40 years).  The year was most likely 1969 or 1970 near when her daughter was baptized and confirmed at this church.  They were commissioned from a blind basket weaver who made his living this way and she lined them with burgundy velvet."
The note was left by Jane's daughter, Ann McMenamin who now lives in Woodinville, Washington.  She was in Santa Barbara for her mother's memorial service.  Jane's obituary is below.  We thank Ann for her note and this bit of information about All Saints' history!
Jane Lewis McMenamin
May 6, 1922 – July 23, 2015
The world has lost a kind, gentle soul. Jane Lewis McMenamin passed away on July 23, 2015 in Santa Barbara. Jane will be remembered by those who loved her for her kindness, her willingness to help others, her appreciation of nature, her love of animals, and her creative abilities. She loved to raise plants and flowers, and she was a gifted seamstress and quilt-maker. Her greatest joy was creating things of beauty for others to enjoy. Jane served for many years as a kindergarten teacher, and was known affectionately as "Mrs. Mac" by her many students. Jane was an avid equestrian for many decades. Some of her favorite memories were riding her horse as a teenager and riding in the Fiesta Parade. She loved the outdoors, and served as a volunteer with the SB Botanical Garden and the Wild Horse Sanctuary.
Jane graced us with a positive, open-hearted spirit through all her 93 years. Though she had challenges in life (she was a cancer survivor), she always found a way to smile and bring joy to those around her. She was a person who loved to create, loved to bring new things to life. By her bedside in her last days, holding her hands, her brother Edward Lewis observed: "Think of all the things these hands have created."
Jane was born May 6,1922 in Framingham, Massachusetts. As a young girl, she came to California with her parents, Robert and Helen Lewis, who founded and operated Lewis Gifts and Antiques in the historic Orena Adobe. Jane grew up in Santa Barbara, graduating from Santa Barbara High School. After attending Scripps College and obtaining a Teaching Certificate, she married local artist James H. McMenamin (divorced) and raised two children, Ann and Paul McMenamin. After retirement from teaching, Jane enjoyed travel, gardening, and restoring antique quilts. Every holiday season she created lovely wreaths and decorations for many local organizations, including the Santa Barbara Women's Club. Jane will be survived by her brother Edward Lewis (Janice), her children Ann McMenamin and Paul McMenamin, and her grand-children Shelley Cantrick and Philip Cantrick (Julia).
A Memorial Service will be held for Jane at the Santa Barbara Cemetery Chapel on Sunday, August 16th at 1:30 p.m. in the afternoon. All those who knew Jane and treasured her friendship are welcome. The Chapel is located at 901 Channel Drive, Santa Barbara, CA 93108.
Published in the Santa Barbara News-Press Online Edition from Aug. 9 to Aug. 13, 2015