Clergy and Staff
The clergy and staff of All Saints-by-the-Sea are dedicated to meeting the spiritual and temporal needs of our parish. We are proud of the talented team in place that serve us day in and day out.
To email any member of the clergy or staff, just click on their name below.
The Rev. Aimée Eyer-Delevett is Rector at All Saints. Aimee arrived at All Saints in December. She oversees the life of the congregation, coordinating and overseeing the work of the paid and unpaid ministry leaders in the Church. 
Aimée is passionate about creating vibrant communities of welcome, relevance, and nurture for all people. Her priesthood is marked by leading congregations and individuals to discover how God is calling them to use their lives and gifts for ministry. Through vibrant worship, meaningful formation, and authentic relationship, Aimée strives to equip the baptized for effective ministry and leadership within and beyond the church.
Aimée comes to All Saints-by-the-Sea with 10 years of training and experience in congregational development. Her early ministry was strengthened by her participation in the Making Excellent Disciples (MED) program, a Lilly Foundation grant which provides five years of training and mentoring for excellence in pastoral leadership and congregational development. Her first two years of ministry were spent serving as a curate at St. Mary's Episcopal Church in Park Ridge, IL.  Aimée has served on the Commission on Ministry in the Episcopal Diocese of Chicago for 6 years. 
Raised in Pensacola, Florida, Aimée's love for Christian community took root during her eight years as a student at The Episcopal Day School. Aimée earned her Master of Divinity degree from Candler School of Theology at Emory University. There she had the enormous privilege of studying with Archbishop Desmond Tutu, while exploring the relationship between theology and social and personal transformation. After completing her Masters of Divinity degree, Aimée worked as a chaplain at Grady Memorial Hospital, one of the largest public hospitals in the US and the Southeast's premier level I trauma center. Aimée earned a Master of Sacred Theology in Anglican Studies at General Theological Seminary, and was ordained to the priesthood in December 2004.
The other compelling vocations of Aimée's life are that of wife and mother. Aimée is grateful for the support of her 17 year partnership with wife, Alyson. They are delighted by the daily joys and opportunities for growth their daughter Willa supplies. Aimée enjoys nature walks, swimming, sailing, yoga, date nights with her beloved, and doing just about anything with Willa.
The Rev. Victoria Kirk Mouradian – Interim Associate Rector and Interim Director of Children & Family Ministries
The Rev. Victoria Kirk Mouradian joined All Saints in June 2013 as Interim Associate Rector and Interim Director of Children and Family Ministries. As Associate Rector, she is in charge of Adult Formation, which includes Christian education and spiritual formation through classes, workshops, retreats and fellowship opportunities. She participates fully in Sunday worship and preaches or celebrates on a rotating basis. As Interim Director of Children and Family Ministries, she oversees the spiritual formation of children and their families through Sunday School education, worship, activities and projects on and off campus.
Vicki grew up as an Episcopalian in Beverly Hills, California, and attended the University of Southern California where she earned a bachelor's degree in art history. Moving on to Fuller Theological Seminary, she earned a master's of theology, taking Anglican Studies at the Episcopal Theological Seminary at Claremont.
Vicki has an interest in art, museums, books, films, public gardens, travel, and creating two-dimensional collages. Before entering the ministry, Vicki worked as an event coordinator. One thing few people know about Vicki is that to relax she reads murder mysteries and international suspense novels.
The Rev. Paul Collins retired as Rector of Trinity Parish Church in Seattle in 2001. Following his move from Seattle to Summerland and joining All Saints as a parishioner, Father Paul was recruited to assist as needed to celebrate and preside on Sunday mornings and has also agreed to serve as coordinator of Pastoral Ministry program.
Padric Davis – Parish School Director
Padric Davis is director of All Saints' Parish School. With an enrollment of almost 80 families, Padric is responsible for admissions, staffing, budget and curriculum, as well as working with parents and children. She grew up in Santa Monica, attending public and Catholic schools. She married an Episcopalian and has been working in Episcopal schools since 1973. As a girl, Padric knew she wanted to be a mother and teacher and raised five children and has eight grandchildren.
With a degree in early childhood education from UCLA, Padric began working at St. Matthews Parish School in Pacific Palisades in 1973 and eventually became Assistant Director. She moved to Santa Barbara in 1989 and began working for All Saints where she worked as a Teacher, Assistant Director and Director. Padric enjoys skiing, swimming, tennis and a good book. Not many people know that she enjoys drawing. She makes note cards with black-and-white renderings of homes for charity auctions in Santa Barbara.
Kathleen joined All Saints in the Summer of 2014 as the Director of Administration.
Nelson Huber – Interim Music Director
Nelson Huber's musical experience spans from Broadway to Vienna and beyond. He began his professional musical career at 16 as a self-taught pianist and organist. He later earned both an undergraduate degree in Church Music and a Master's in Music in Choral Conducting from Westminster Choir College in Princeton, NJ. Thus began his 30-year career in music ministry. Nelson served All Saints as Music Director and Organist for 7 years beginning in 1994. He then served as Music Director and Organist at First Presbyterian Church in Santa Barbara until his retirement from full-time music ministry in 2015. He is excited to return to All Saints to minister to us in this time of transition.
Kim Collins – Interim Eventide Director
Kim Collins grew up playing guitar, trombone and singing with his family. He received a degree in Music Theory and Composition from the University of Kansas. Kim is an instructor of vocal and instrumental jazz at Santa Barbara City College. He is also the music director, a team member, and co-creator of the Santa Barbara Vocal Jazz Foundation, participating in intensive education programs that benefit area school children. Kim recently retired from this 28-year position at Santa Barbara's Free Methodist Church. Kim has been a member of the All Saints' Eventide Band for 7 years, and is honored to assume his new role as Interim Eventide Music Director.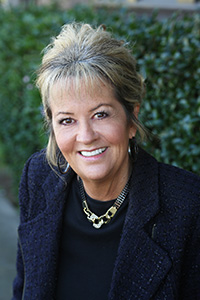 Cynthia Breen came to All Saints on All Saints Day in 2010 as bookkeeper for the Church and Parish School. As bookkeeper for both the Church and School she is directly involved in ensuring that all financial information is accurate and reporting is up to date. Cynthia offers invaluable support to the staff and the Vestry, Investment and Budget and Finance committees.
Cynthia grew up in Greensburg, Kansas, and moved to Santa Barbara in 1976. She attended San Marcos High School where she was on the debate team and studied advanced mathematics. She then attended Santa Barbara City College where she studied accounting. Her hobbies include political and historical documentaries, writing, non-fiction book reading, tennis, football, bowling and traveling. She grew up as a Methodist but has traversed many paths since.
One thing that few in the parish know about Cynthia is that without a life-saving operation at Boston's Children Hospital at the age of 9, she wouldn't be here today. Also, she is a licensed Notary Public!
Anne Hopkinson – Wedding and funeral coordinator