Welcome Back, All Saints' Choir!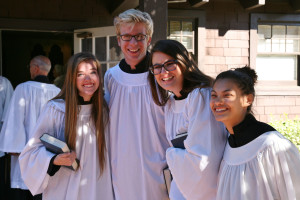 Please join us in welcoming back the All Saints Choir, after summer hiatus, at the September 14 10 a.m. worship service. During their first Sunday back, this special Homecoming Sunday, they will be accompanied by our Family Feast children and families. We  welcome back many of our musicians, of course, but this year, All Saints' Music Director Steve O'Connor has extended a special invitation to those parishioners who have an interest in singing with the Choir, but have not been able to join the regular Thursday evening rehearsals.  Steve has initiated early Sunday morning rehearsals in the Parish House at 8:15 a.m. to allow those parishioners an opportunity to sing.  Sunday rehearsals will be a full rehearsal of the same music that was rehearsed the previous Thursday evening.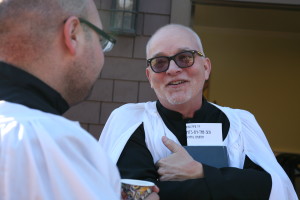 This will also give choir members a scheduling choice each week, as to which rehearsal they'd like to attend. "During each rehearsal, I will spend some time teaching foundations of music, including note reading, how to sing properly, healthfully and well, how to understand rhythm, musical dynamics and proper diction, etc. I'll teach in such a way that absolutely everyone can benefit, from the newest to the most advanced musicians," writes Steve. "Our choral season this year will include an enormous variety of liturgical music styles, and will include at least one major classical work with chamber orchestra, not to mention our glorious Service of Lessons and Carols, our Christmas Eve services and our Easter Sunday morning festival liturgy.  Believe me, you'll NOT want to miss out on this opportunity to sing with one of the finest liturgical choral organization in Santa Barbara." So, how do you get started?  The easiest thing to do is just show up on Sunday mornings at 8:15 am in the Parish House. Questions? Contact Steve.