The Story of All Saints on a Day of Disaster and Tragedy – January 9, 2018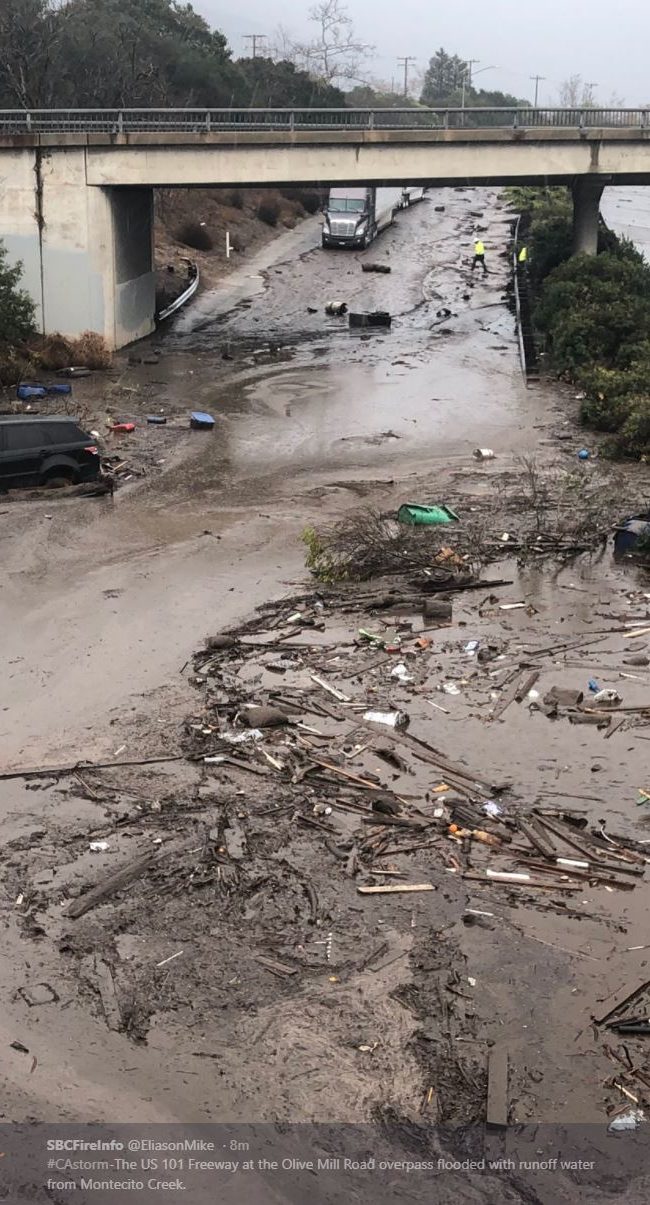 Dear All Saints Family:
January 9, 2018 will be a day that will remain with us forever: we each have been touched by the devastating flooding took lives and damaged or destroyed hundreds of homes. We want you to know understand what took place on the church campus. There are many unknowns so please monitor your email regularly.
Later we will be sending out an email to ask you your status, what needs you have and what assistance you may be able to offer. We hope you can reply very quickly so that we know who is alright and who is in need.
All Saints Used As Triage Site
Early Tuesday morning, search and rescue personnel began bringing those pulled from their homes to the All Saints campus. We had no mud, water or structural damage on the church campus. However, due to impassable roads and the closure of
HW101, no one could come into or leave All Saints and most of Montecito. Rev. Aimee, Alyson, our tenants in the rental units, including Syd Walker, and a few neighbors opened the Parish Hall and Sanctuary. There was no power but the restrooms and gas stoves were working. Aimee put out a call to the neighbors to bring blankets and food and to assist as able. They showed up to serve the evacuees, play with children, and serve as God's hands during this severe time of need.
An AMR paramedic unit was stationed at All Saints and served as a medical triage unit serving those evacuated and anyone who could make their way to All Saints for treatment. Many who were pulled from the debris/rubble/mud needed urgent care and were taken by helicopter from the church campus to Cottage. One of our neighbors is a doctor and she was able to treat those brought in who needed immediate assistance. We were asked to spread the word broadly throughout the community that treatment and care was being provided on campus; thank you to all who helped spread the word via social media.
As evening approached, the National Guard arrived on campus to begin evacuating those who were streaming in by vehicle or on foot. Large military vehicles with very high clearance and massive tires began loading people and pets and taking them through the mud and debris to the Von's shopping center where they were offloaded and met by friends or family. Others were taken by MTD bus to Santa Barbara City College where the Red Cross established a shelter.
Aimee, Alyson, our neighbors and parishioners took shifts overnight to continue assisting those who arrived and who needed shelter and access to the services being provided by the medical and rescue personnel. The All Saints team and our neighbors performed heroically in the most trying and tragic of times. It was heartbreaking and gratifying at the same time. We thank everyone who came to assist; lives were touched — and even saved — by these generous steps.
Our Neighborhood Evacuated
mid-week, we were informed that the National Guard was taking over our Parish Hall as their incident command and that everyone in the neighborhood and associated with All Saints should evacuate. Rev. Aimee and Alyson along with nearly all neighbors have or did depart.
What We Do and Don't Know
Here is what we know – or don't know – at the moment. Again, please monitor email regarding next steps for All Saints' worship, business and our campus:
Electricity: there is intermittent power in the neighborhood and we do not know when it will be stable. Most of Montecito will not have power for some time due to access issues. Power will come on in areas at different times and there will continue to be intermittent outages as service is restored.
Gas/Water: there is a requirement to boil water throughout Montecito due to broken water lines and damage to the water delivery system. It's unknown how significant the system damage is and if water service will be impacted. Gas service was turned off to most of Montecito in order to begin repairs. Timing for the restoration of service is unknown.
Roads/Highway: HW 101 is impassable and it's not known when local and then regional access will open but will not be before mid-January. At this point, the 101 is closed from Ventura to downtown Santa Barbara. Area roads are closed and there is no access to the All Saints campus except via military vehicle. For some who are evacuating, it is possible to drive out of Montecito but with escort (generally from 192/Hot Springs). No one can re-enter until further notice.
It's impossible to know when access and utility service will enable us to resume worship services and open the office. We will keep you informed via email and social media.
The Santa Barbara County Sheriff has made all of Montecito a mandatory evacuation area; no one is allowed in or out of town.
All Saints is NOT a donation collection location; this is a rumor being spread on social media. Please correct that if you see this information.
Tom Mack and George Ittner, as senior and junior wardens, have been in constant contact with one another and Rev. Aimee regarding all of these matters. Tom will be keeping the Vestry informed and they can conduct meetings electronically or in person at a location to be determined in order to help make key decisions.
That is what we know at this moment. Please know that each of you are on our minds and in our hearts.
May the peach of the Lord be with you,
The clergy, staff and parishioners of All Saints