Sanctuary Preservation and Readiness Project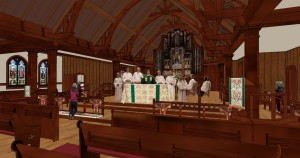 For 118 years our beautiful and sacred Sanctuary has served as the foundation of our community's life. With its iconic craftsman design, our Sanctuary has been a warm and welcoming beacon that brings us together in Christian community and provides a base for us to reach out to our neighbors here and around the world.
The past year has seen us reach our capital campaign construction goal of $10.1 million, launch our effort to raise $1.5 million for our invested reserves/endowment and proceed with plans to update the Sanctuary to accomplish several goals:
Rebuild the Bell Tower — completed in the fall of 2016
Add a new foundation under the western half of the Sanctuary
Make the Altar and Choir areas and the Communion Rail accessible to all parishioners, including those who have disabilities
Replace our failing pipe organ
Improve lighting and acoustics
Make better use of seating and convert the Vesting Room into an intimate Seaside Chapel
Build a lovely and serene Memorial Chapel with columbarium niches and memorial plaques
Enhance our financial reserves to assure the future of what we have built
Special Information for All Saints' Parish School Parents
Click on this link to visit a special webpage of project background for parents of the All Saints-by-the-Sea Parish School.
Bell Tower Removed and Rebuilt
The iconic All Saints Bell Tower was in serious jeopardy of falling should a major earthquake strike our region. The church leadership decided its rebuilding was its first goal and so the existing tower, built in the year 1900, was removed and reinstalled using the very same sandstone bricks used in the original tower. Check this page for a full set of materials about the deconstruction and rebuilding of our historic Bell Tower.
Project Update: Town Hall Meeting Materials Here:
2017: Our most recent project update took place at the June 2017 Town Hall gathering. Check out the presentation by clicking this link.
2016: The 2016 meeting materials can be found here.
2015: The 2015 Town Hall meeting materials can be found here.
2014: The 2014 meeting materials can be found here.
General Project Background/Information:
A fuller explanation of what the project could include is explained in this document: just click on this link.
To read the most recent engineering study about the seismic needs of the Sanctuary, please click on this link.
Much of the overall project planning is based on the views of parishioners in a survey conducted in 2013; you can read the survey results by clicking on this link: Survey results of the Parish Survey. 
Special Edition Parish Newsletters
Our special edition Bell Tower or Read All About It newsletters focus on the work of the "Sanctuary Preservation and Readiness Project" and the capital campaign, called "How Firm Our Foundation." Here are links to a few of the key past editions:
History of All Saints' Organ; Plans For A New Instrument
Check this page for a complete article about the plans for a new pipe organ.
A Capital Campaign: Paying to Preserve Our Sanctuary and Ready it for the Next Century
A capital campaign was begun in mid-20014 to raise funds to pay for these needed renovations. The campaign website can be found at this link.
To learn more about the capital campaign as well as the overall effort, you can read a "Question and Answer" document by clicking here!