Parish School Relocates to Interim Site in Santa Barbara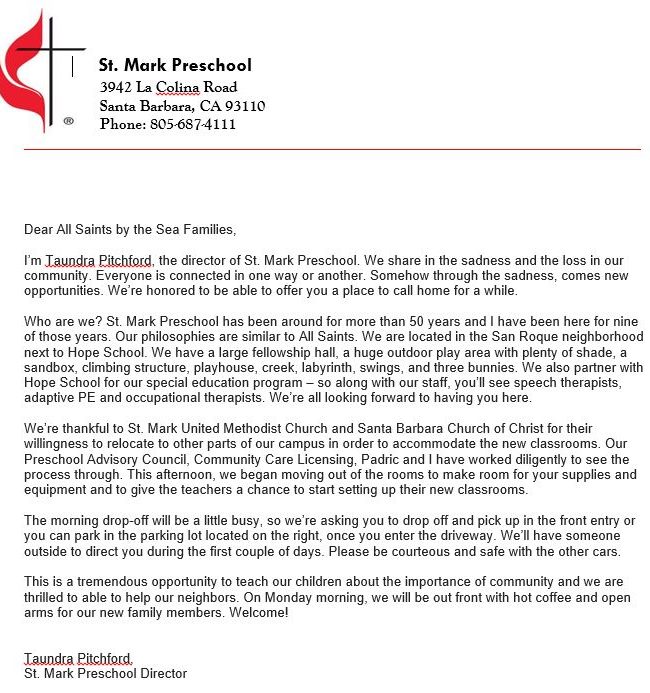 Here's the latest from Parish School Director Padric Davis:
We are very happy to let our parents know that we have been graciously invited to share space with St. Mark Preschool at 3942 La Colina Road in Santa Barbara until it is safe to return to All Saints by-the-Sea Parish School. We will be in a space that works for us and we are being welcomed with open arms.  This is a wonderful example of the Santa Barbara community coming together to help each other during difficult times, and I look forward to our time spent in our new temporary school home.
We are meeting a fire department escort . . . and moving the items we need to begin school on Monday at 9 am at St. Mark Preschool.  We will be in a separate area from their preschool that will be changed from church meeting rooms to classrooms, and we will share the play yard at opposite times with the children of St. Mark. Your child's days of attendance at All Saints will remain the same during our time at St. Mark.
You can read a letter from Taundra Pritchard, Director of St. Mark Preschool.  It has been a wonderful experience working with her to make this happen.
The event that has caused the closure of All Saints has been an unimaginable experience for many and a trying ordeal for others, it is also a teaching opportunity for our children to experience the expressions and work of our parents, our neighbors and our community partners in Santa Barbara working together.
To read the letter of welcome from the St. Mark Preschool, located on La Colina Road in Santa Barbara, click this link or on the image below.