Music & Choir
For many years, the music program at All Saints-by-the-Sea has enjoyed a reputation for excellence and innovation. The primary mission of our music ministry is to lead the All Saints community in worship that glorifies God, touches the heart and challenges the mind.
Each Sunday from September through May the All Saints Choir leads the 10 a.m. worship service. Our choir is made up of volunteers from the parish as well as a core of professional singers who support the choir in learning and performing its music, and who also sing solos and ensemble pieces.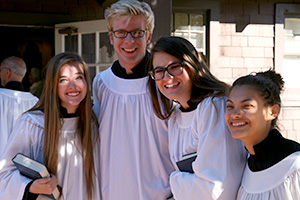 We seek to offer our fullest praise to God through a "broad brush" of musical styles. Inspired by the English Cathedral musical tradition, the repertoire of the choir ranges from the master works of Bach, Mozart, Faure, Tallis, Palestrina, Purcell and Mendelssohn, to works by leading contemporary composers. In addition, throughout the year we invite guest musicians to enhance our worship, as well as other special events. In so doing, we are able to present musical worship through a great variety of musical genres.
For more information on how you can participate in the music of All Saints, provide financial support for our music ministry, or join the All Saints choir, contact our Director of Music.