A Better Way to Learn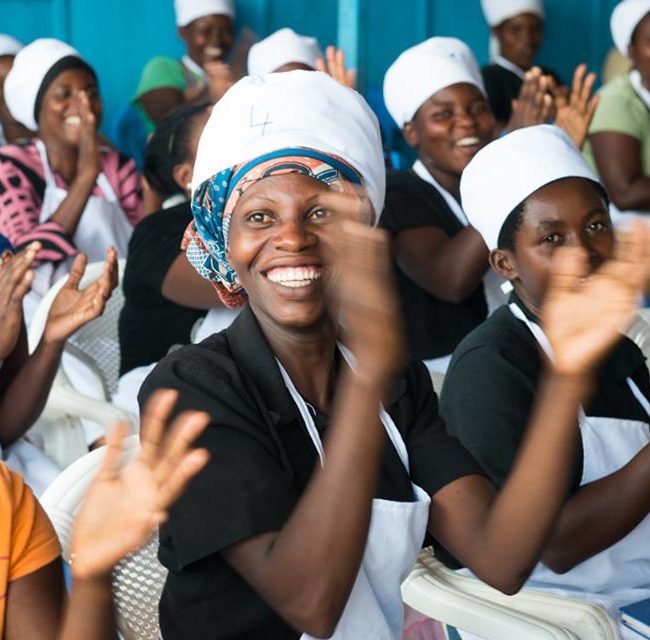 "You have to tell the people at All Saints church that we are very happy with these chairs," says Joan of Arc. She is president of the students' association at the Aspire project in Rwanda. The women she represents have no idea where Santa Barbara is, (or California, for that matter), but they have heard of All Saints by the Sea church.
"Twice, you sent us chairs and a tent, so we can have our lessons in the shade," Joan of Arc continues. "It is much easier to concentrate on lear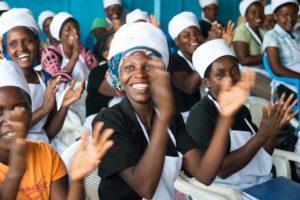 ning things if we aren't sitting on the ground in the sun, hot and uncomfortable."
Joan of Arc and I are standing in the dusty compound of the Aspire project in Kigali, the capital of Rwanda. Near us, fifty women of all ages sit beneath a big canvas tent, on white and blue plastic chairs, supplied by All Saints Outreach Committee.
Today, they are listening as a local lawyer, a woman who is volunteering her time, explains their rights under Rwanda's progressive constitution. The fact that they are equal under the law comes as news to the women, most of whom were illiterate when they joined Aspire. They are pleasantly surprised to learn that they can report domestic violence and rape to the police, and expect to get justice. The lawyer is followed by a medical student who talks about HIV, malaria and family planning.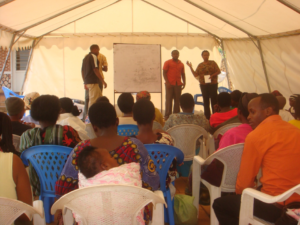 Each morning, the Aspire project provides training in practical things like how to open a bank account and save money, as well as first aid, detecting breast cancer, and hygiene. In addition, the women learn skills such as hairdressing, housekeeping and cooking, with which they can earn money. In exchange, the women promise to buy medical insurance for their family, save a little money each week, and send their children to school.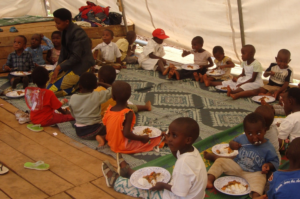 While the women learn, their toddlers are in the second big tent provided by All Saints. It is partitioned into three sections where different age groups learn their numbers and letters. Because Rwanda is an old-fashioned society, they also learn manners. Even at two years of age, the children know how to shake hands with adults and say, "How do you do?" The Aspire project also serves two meals a day, and consequently the children are healthier, bigger and stronger than their peers when they start elementary school. They are also academically well ahead of the rest.
"We have been so blessed by our friends at All Saints," says Joan of Arc. "We thank them and pray for them."